To achieve higher levels of returns, investment banks must retool their business models and operational platforms. Innovation is the mandate for accomplishing success.
Given the COVID-19 impacts, rapid technology advances, and a shift to remote working arrangements, investment banks are facing significant challenges. At this stage, innovations and developments help to create transparent and sustainable services.
Investment banks like Goldman Sachs and Morgan Stanley are enabling novel approaches and business models to bring transformation. A set of priorities for investment banking are discussed here.
Innovation across investment banking
Rosenblatt securities describe innovations across four areas - fundraising, IPOs, M&A, and private securities trading. When implemented together, investment banks will become more efficient, trusted, digital, and transformative.
1.Early-stage fundraising
As is:
The investment bankers act as middlemen and connect startup founders with the investors while raising funds. They follow investors, continue to negotiate, and help to close funding deals on behalf of startups.
Innovation Trends:
The early-sage of funding is driven by blockchain-based funding mechanisms like Initial Coin Offerings -ICOs and Security Token Offerings -STOs.
ICOs that started in 2013-14 with MasterCoin, Ethereum, and NextCoin has gained popularity since 2017-18. STOs, an upgrade over ICO provides greater investor protection and is popular since 2019.
A few of the crowdfunding platforms include AngelList, GoFundMe, Indiegogo, Kickstarter, and SeedInvest.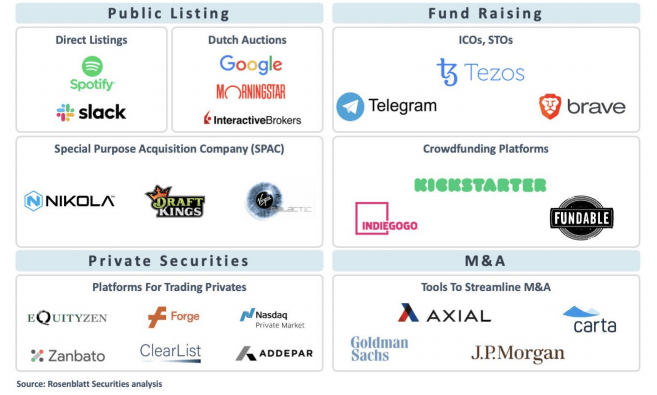 2. Initial Public Offerings (ICOs)
As is:
Private companies follow a traditional IPO process and model while going public. It involves-
Creating institutional orders

Determining the listing price

Stabilizing the offers
Though this is rewarding for institutional investors, it is issuers' money left on the table.
Innovation trend:
Opting for the market-driven process – Dutch Actions and Direct Listings of pricing is the trend today. Here, the price of an issue is determined through the interaction of demand and supply on opening day. The bankers need not create an initial order book.
The successful deals under Direct Listing include Slack and Spotify. Likewise, Bill Hambrecht brought 21 companies including Interactive Brokers and Morningstar using Dutch Actions.
3. Mergers and Acquisitions (M&As)
As is:
Innovation trend:
JP Morgan and other banks are testing digital ledger technology for the settling of payments.

Goldman Sachs uses Gemini, a software to automate basic M&A activities.

Middle-market companies use Axial to match potential acquirers and target companies.
4. Private securities trading
As is:
Illiquidity of private securities is a crucial issue as firms stay private for longer periods before going public

Institutional investors are deprived of wealth creation source and diversification as they cannot invest in private securities.
Innovation Trend:
Fintech players like SharesPost, Nasdaq Private Markets, Forge, Addepar, and Carta have launched/are launching trading of private securities.
The Fintech players are addressing the challenges like transparency (financial data, operating metrics, and governance standards are more available now), price discovery (market-driven pricing environment), and liquidity (attract issuers and shareholders to list securities on exchange-like platforms).
Tech-innovation in investment banking: Latest development
Technology will fundamentally transform the banking industry over the coming years, says, Antony Jenkins, former Barclays CEO via CNBC.
Top financial institutions are hiring data science, technology, and engineering talents more and more while upskilling their current staff.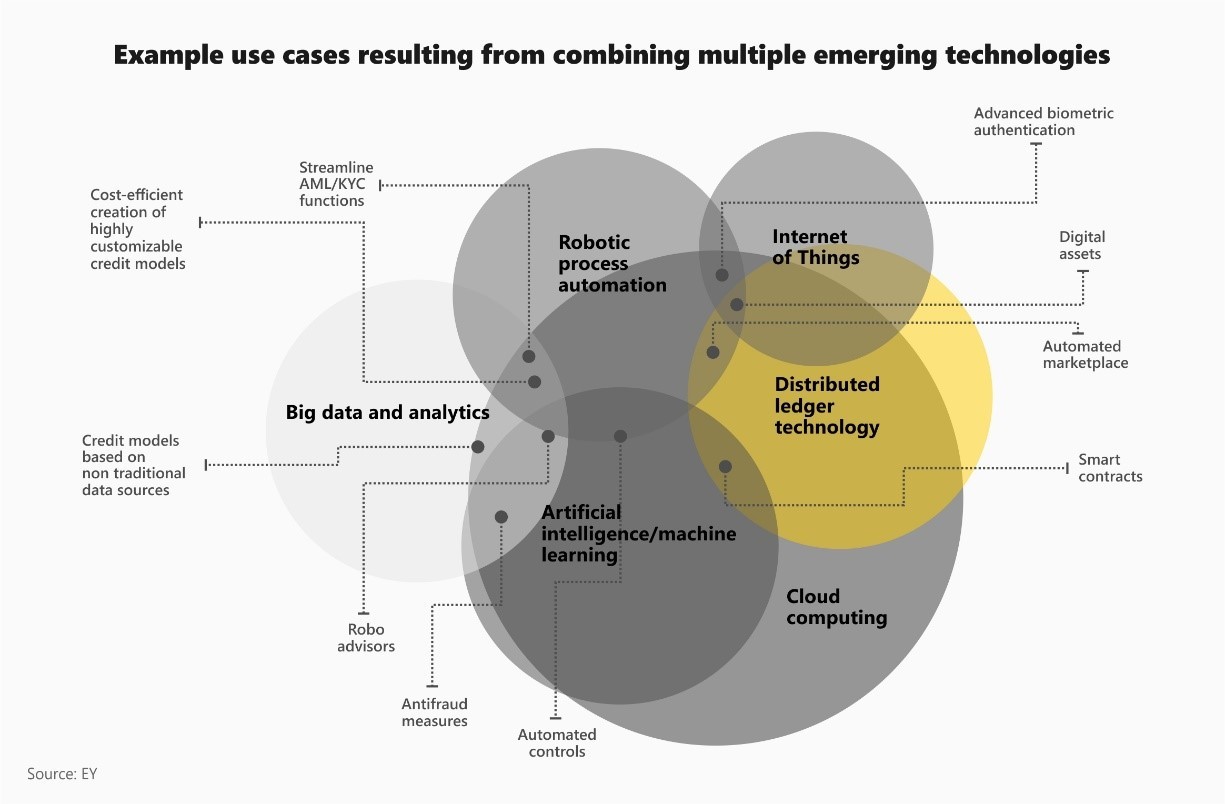 JP Morgan is encouraging their asset managers and new investment banking professionals for mandatory coding lessons. They are taught Python which enables the team to analyze and interpret large sets of data. They are incorporating data science, machine learning, and cloud computing in their transactions.
Goldman Sachs is working to digitize bankers' workflow, use technology in a modern and data-driven way to engage clients. The team is leveraging external data insights to build specific apps and machine learning algorithms for understanding shareholders and mutual fund filings.
Innovation in investment banking: The necessity
Innovation and technology shape the investment banking industry.
Advancements in technology and innovation enable the investment banking professionals to:
Increase access, agility, and speed to market

Transform cost structures and benefits

Strengthen operations and controls

Gain insights into customer service

Serve customers in a better manner

Comprehend risks and its management
At the basic level, investment banking professionals must stay updated about the latest trends to derive benefits. The combination of innovative technologies, tokenized securities, and modern structures will transform the banking sector entirely. Leading bankers are making full efforts to stay ahead by rolling out M&A platforms, and experimenting with blockchain technology.
As innovation priorities changes, professionals must upskill in technical skills, financial and interpersonal skills. To elevate your career in investment banking, try investment banking certifications.
Embrace the innovation, ease access, use technology to exceed customers' expectation.