If money makes you tick, and you don't mind grueling working hours, then the Investment Banking profession can be the perfect fit for you.
In most countries, mid-level Investment Bankers come under the top 1% of earners.
The sky-high quick reward rate of the Investment Banking profession makes it a riveting deal for ambitious professionals from varied backgrounds. Added to it is the opportunity to interact with corporate heavyweights, CEOs and Board members. A lure for millennials and Gen-Zs, junior banking careers have excellent exit opportunities.
An investment Banker has it all: money, fame, respect, recognition and mint networking. But before you take the leap, here are some important pointers to ponder.
Who are Investment Bankers?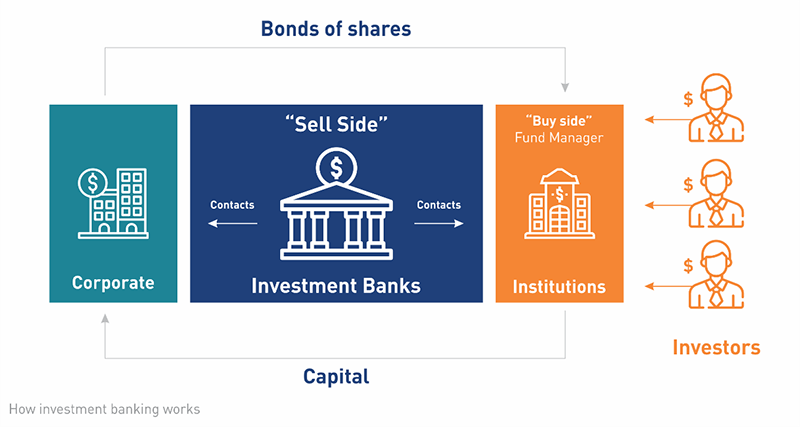 Two kinds of setups are engaged in investment banking activities: Investment Banks and Investment Banking divisions (IBD) in regular Banks.
Investment Banks have a wider portfolio of services which includes underwriting, Mergers and Acquisitions, retail banking, sales and trading, asset management and equity research. They also deal in commercial banking. IBDs, however, deal only in M&A advisory services and underwriting i.e. raising capital through selling stocks or bonds to investors.
What do Investment Bankers do?
Investment Bankers raise capital for organizations.
They do so in two ways: by distributing debts or by selling equity. While large corporations may have specific roles for them, smaller firms usually merge the roles with the corporate finance department. As their common KRAs, Investment Bankers:
Develop financial models for mergers and acquisitions (M&A) and funding
Conduct valuation
Recommend products, private equity, and M&A deals
Compile documentation (presentations, pitchbooks and investment memoranda)
Develop and manage relationships with clients
Conduct research, due diligence, and analysis of projects
Who hires Investment Bankers?
From "bulge bracket" * investment banks like Goldman Sachs, Morgan Stanley, etc. to commercial banks like Citigroup, Deutsche bank to boutique investment banks, each in its own capacity is offering lucrative careers to investment banking professionals.
Firms like KKR, Black-stone, and TPG hire investment bankers with an impressive track record. They also hire graduates from top colleges and those with an excellent academic record.
Types of Investment Banking Jobs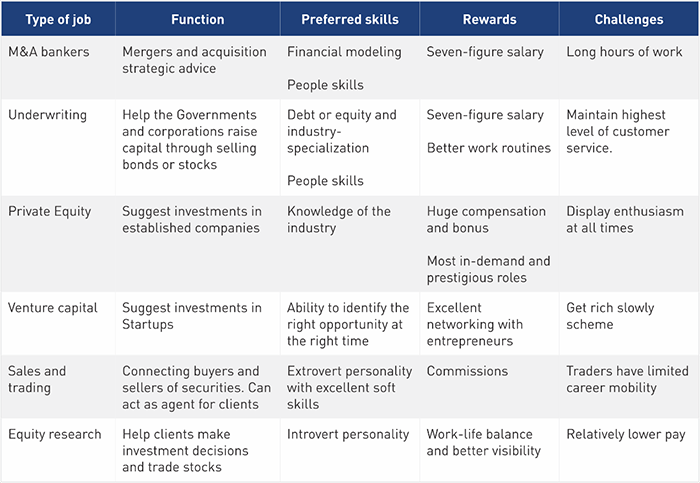 Investment Banking job roles converge and diverge at various points. We have outlined the most dominant markers to give you a picture of the key differences in these job roles.
Common job titles for Investment Bankers
Analyst
Associate
Vice President
Director
Managing Director
Head
Vice-Chair
What salaries do Investment Banking professionals draw?
Pay scale for Investment Bankers varies from place to place and role to role.
Salaries for junior Investment Bankers are divided into base salaries, bonuses (year-end, signing, stub) and benefits.
Base salaries for analyst role range from USD 85k to USD 95k. Base salaries for associate roles range from USD 140k to USD 180k. For both these roles year-end bonuses range from 70% to 100% of the base salaries. Stub bonuses for analysts vary from USD 20k to USD 30k and signing bonuses range from USD 5k to USD 15k.
In the UK, corporate Investment Bankers bag a paycheck of £30,000 to £40,000 and operational Investment Bankers earn betweens£25,000 and £50,000.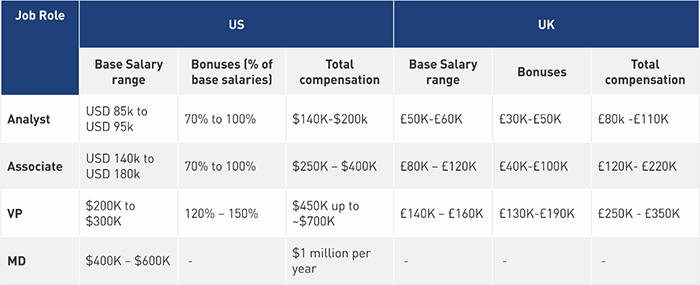 Entry Requisites
An MBA or equivalent degree from "Target Schools" can be your best bet to launch your Investment Banking career. If you are experienced professional, then you will need three or more years of experience in a finance or business profile (preferably one that includes quantitative assessments).
Certification can be a big plus as it can help you get job-relevant knowledge and skills. It can also highlight your CV in the recruiter's pile.
You will also need following technical and soft skills.

Investment Banker's career roadmap
Initial progress in the investment Banking career is fast and you can expect to reach an associate-level in 2-3 years. Here's how your career map will look if you stick around in the game for long.

Before you pick Investment Banking as your career
Investment Banking roles are demanding and usually involve 100 hours a week work schedule. Getting into Investment banking can be challenging. Sometimes the vacancy to applicant ratio is 1:100.
Working in bulge bracket banks could be more challenging than working in a boutique investment banks. However, experience in a bulge bracket bank could significantly uplift your resume.
Participating in events like NIBC and professional networking can get you the right breakthrough.
Breaking in at mid-level career can be extremely hard, so make your choice at the entry or the senior level (if you happen to rise to the CEO level or so).
Trivia
The term 'Target Schools' indicates a list of preferred schools from which Investment Bankers hire their employees. Here's a list of top global "Target Schools."
Business School Sao Paulo (BSP)
CEIBS – China Europe International Business School
Esade Business School
Fudan University – School of Management
HEC Paris
IE Business School
IESE Business School
IMD Business School
Indian Institute of Management Ahmedabad (IIMA)
INSEAD
*Bulge Bracket banks are the worlds' biggest global banks. They are the powerhouse of the global financial industry. Bank of America Merrill Lynch, Barclays Capital, Citigroup, Credit Suisse, Deutsche Bank, Goldman Sachs, JPMorganChase, Morgan Stanley and UBS fall in this category.